IS AUTOMOTIVE TINT RIGHT FOR ME AND MY CAR?
There are many essential benefits to having your car's windows tinted. It's a simple and relatively inexpensive way to improve your driving experience. Here are six reasons why you should consider tinting your car's windows:
Glare Reduction: One of the main benefits of window tinting is the reduction of glare. From elements like sun and vehicle headlights during nighttime driving.
Interior Protection: UV rays from the sun can cause the interior of your car's interior to fade and crack over time. Window tint can block upto 99% of these harmful rays.
Privacy: Tinted windows can provide privacy for the driver and its passengers. This can be especially useful for those who frequently carry precious cargo that they want out of the sight of prying eyes.
Temperature Control: Tinted windows can help keep the inside of your car cooler on hot days by blocking out some of the sun's infrared heat. Allowing for a pleasant driving experience. Reducing the need for heavy air conditioning use. Which in turn can aid in fuel savings.
Security: Tinted windows can even help in an accident. Reducing the amount of broken glass that ends up in the car's cabin.
Improved Aesthetics: Many people simply like the way that tinted windows look on a car. Giving your car a sleek and stylish appearance.
In conclusion, window tinting offers a wide range of benefits that can improve your driving experience and protect your car. Be sure to do your research around the film being installed and ensure the warranty works for you, as all window films are NOT created equal.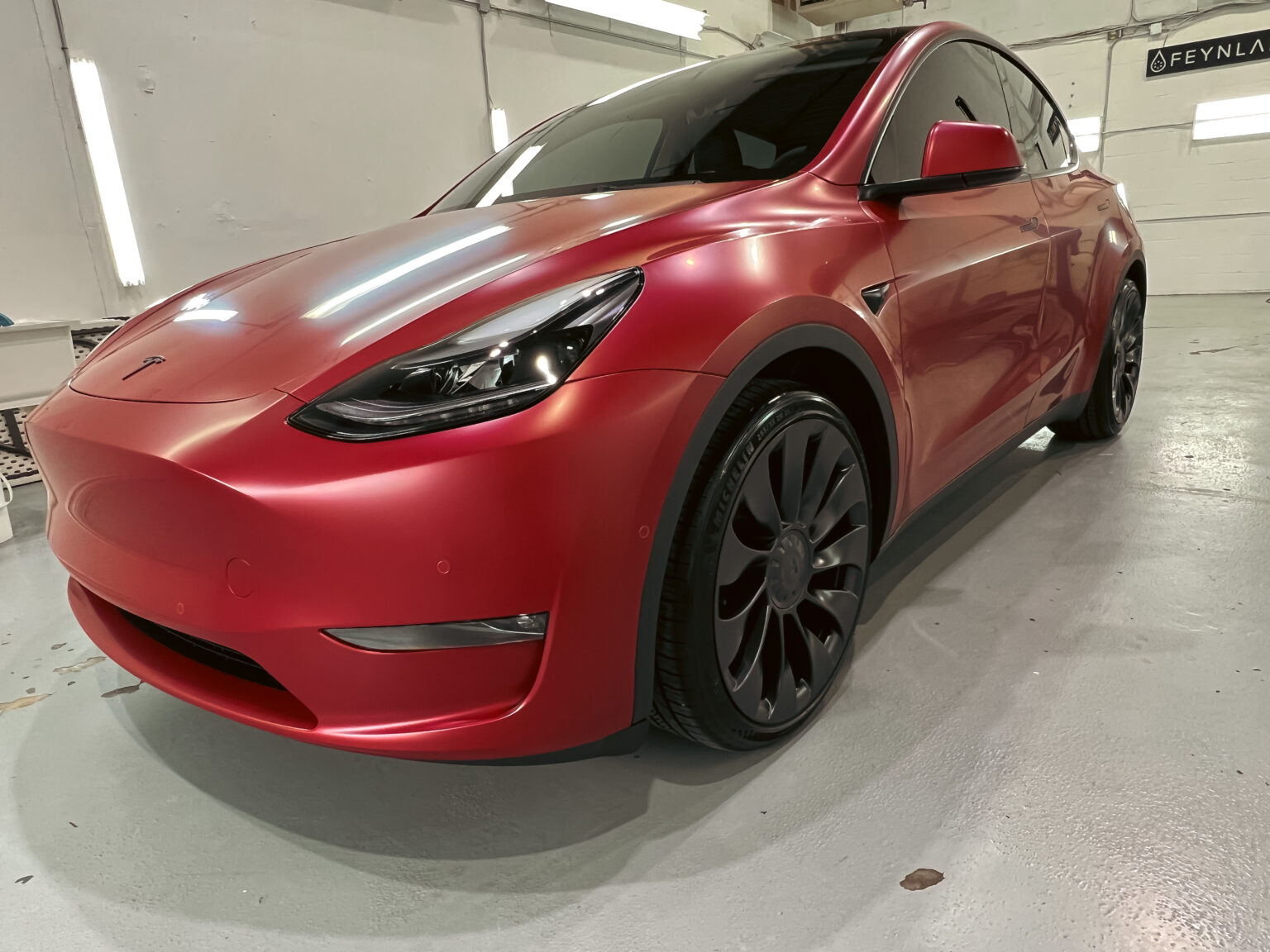 It was a pleasant experience having the Tesla front window tinted. Would highly recommend.
This place is literally a gem in located in place you would never think. I was (F)ed by a previous shop then was recommended this one man was I happy with the outcome I will say this if your looking for the best in auto care with extreme detail this the place. Literally the best dude. Super down to earth will tell you straight up what's good and the work this man puts in cleaned my issue with a dropping a sweat. Highly recommend him. I guarantee you will not be disappointed.
I have had Fabian apply the paint protection to 3 of my vehicles and he has always done an amazing job. The quality is seamless with no issues and great for long term wear and tear protection of your vehicle.
Nishangan Paranthaman
2022-10-14
Fabian is AMAZING!! On my first visit with my brand new Tesla he noticed a small dent on the fender. He asked me to reach out to Tesla to fix that issue. Without him I wouldn't notice that dent. After Tesla fixed that issue, he noticed that they oversprayed the paint on certain parts of my car. I went back to the body shop to fix everything according to the standard. Fabian is super professional and he is so knowledgeable on what he is doing. He did an amazing job Tint all the windows and PPF. The car looks amazing.  I will definitely come back with my next car purchase.
Aram Stamboulian
2022-07-15
Fabian came highly recommended by a friend and was excellent to deal with. I had my brand new 2022 Tesla Model Y Performance tinted with PPF applied (partial frontal) and he did an amazing job. Super knowledgeable on types of films, tinting, Tesla in general. Was really helpful, informative and patient while I asked about different types of wraps, etc. Would certainly recommend and revisit with my next vehicle purchase. Everything was handled in a timely manor.
Stopped in during the Spring Time for nice clean up after a messy Winter. Fabian was able to book me in for a light polish with Ceramic hydrate and the Dialed In Interior Detail package. I was very impressed and super happy to see the paint really pop after the service. My car looked and felt brand new again. Fabian noticed a small chip on the rear bumper and corrected that for me. It is alway great when other people comment on how nice the car and the interior look after 4 years of ownership. Highly recommend Fabian for any Films, coatings and detailing. Pricing was great too!
100% will recommend. Thank you Fabian for the fantastic work! If you are looking perfect PPF, this is the go-to place!
I went to Evelyn Protective Films & Coatings to get my windows tinted and my vehicle detailed and it was simply a great experience! From the extremely intuitive website, to my first phone call with Fabian, I felt confident in my choice. Fabian was patient and thorough in answering my questions, addressing my concerns and providing additional suggestions for me to consider. Once I arrived for my appointment, I was pleasantly surprised with the extreme cleanliness of the facility (because this is usually NOT the case, if we're being honest!). When my vehicle was ready, Fabian went through the aftercare process, what to expect and followed up within 24 hours to ensure I was satisfied. He's extremely professional and well versed in his craft. I would definitely recommend Evelyn Protective Films & Coatings!